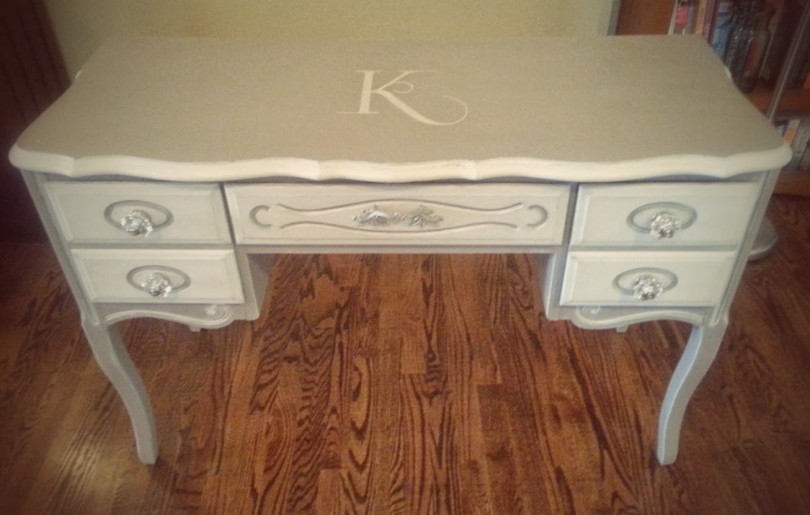 I unfortunately don't have any "during the process" photo's of this one, nor are my photos well staged or as good as I'd like for this one, but it was for a good reason and I didn't really think ahead because of that

 This item was a gift, a Christmas gift actually, for our dear friends. I added a monogram to the top to personalize and hand detailed every corner, niche and some of the hardware I added, using a dry-brush technique, followed by 2 coats of brushed and cheesecloth polished Annie Sloan soft wax.
So it was more a love project, not a step by step, plus it was done over about 2 months when I could get days warm enough in November and December to paint in my workshop (our 3rd garage converted to my workshop but not yet insulated or finished out), so warm enough days to paint (over 55 degrees) were there, but not always when I was able to wield the paintbrush. Still, it got done in time for Xmas and that's what counted. They are using it as an entry table and I did a mirror to match and added a crystal and burnished brass lamp to finish it off.
It's done in home-made Chalk (not chalkboard) paint in colors, Behr: Burnished Clay and Farrow & Ball: Charleston Grey. I add a specific recipe/ratio of water and calcium carbonate (chalk) to flat acrylic paint/primer-in-one and it makes a very durable, color saturated, easy to work with and keep, chalk paint. I hand painted all of this, rather than spray. Partly because
Before (a summer garage sale find) – Nice 50's solid wood, french provincial style, dovetailed drawers, in perfect structural condition, except for 1 drawer I repaired. Yellowish cream and sprayed gold in the detail areas (shudder). No hardware and pretty scratched up and a few stains, but gotta love Chalk paint for many reasons, not the least of which is no sanding or prep. I just clean it, then wipe down with mineral spirits immediately before I paint.
After – painted 2 tone, monogrammed, dry-brushed details and the only light distressing I did on this one, was the curvy rim edge of the table top. I opted for full paint with dry brushed details rather than all chippy and distressed, keeping in mind that this was for friends who run a little more contemporary, rather than Farmhouse, Rustic or Shabby style. Center hardware was a vintage one I had from another chest of drawers (which was missing some hardware, so I had to replace all and use these lovelies for this and other pieces), plus glass pumpkin style pulls from a stash I found at an antique store.
With matching painted mirror to hang above
And a flash photo that is a bit sharper, showing more detail where every edge, indent, crevice and corner was hand detailed

Monogram was done using my Silhouette cutter, so I was able to pick the right font and size, cut it out on the Silhouette and stencil it onto the top. LOVE the Silhouette cutters… another post on that to come.
Thanks for stopping by and I'll have some newly finished pieces to show you soon !