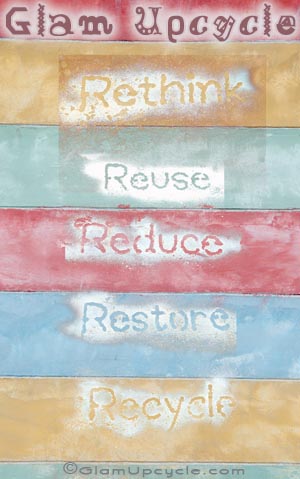 Depends who you ask, but I'll give an idea of what it is to me, thus, this blog

It's IMAGINATION.
UpCycle is a catchall phrase for recycle, re-love, re-use, re-purpose, rethink, restore, re-imagine (all those "re" things), including, but not limited to…
Trying to make something nicer than it was, especially if it ends up being used again when it may have otherwise been wasted or ended up at the dump
Making use of space to give you more function (my Master Bath Built In is a perfect example of this)… we basically did a home improvement, yes, but it added something needed without spending a lot and

using some things we already had on hand to do it

. So we both improved and used recycled materials..

that = UpCycle on a DIY build project

Restoring something so it's more functional, beautiful, funky, fitting, works again, usable, fashionable, artsy, serves a new purpose.
Rethinking how you use or look at something like a shoe box. piece of furniture or old electric cord. For instance, old (unsafe to use) electric cords are great to tie up bundles of scrap wood, they're strong.
ReUse or Repurpose anything you can. Every large yogurt container is a paintbrush water pot or paint mixing pot. A plastic tray from Trader Joes with their awesome potato salad is perfect for a small foam roller paint tray. Jars are nail & screw storage or airtight ones are small touch-up paint containers to keep on hand for specially mixed colors. SO many ways to use things at least once more before it becomes trash.
"Curb Shopped" or Craigslist Free (or really cheap) furniture is your next painted farmhouse look piece or parts (like the legs on our bathroom built in) or remade into something else altogether
Changing something new into something more interesting/beautiful or using it for some different cool purpose. A bunch of $1 thrift store frames are your next family gallery with some paint and imagination. An old wood headboard is really easy to make into a bench.
Making something artful in a way that pleases you… think stencils, decoupage or fabric covering. All classic, easy ways to make something artful
Saving something that could still be beautiful and/or useful, especially if it's vintage or antique and really worth saving. Double bonus if it avoids a situation where you would have been buying made-in-china new things.
It's finding ways to use things differently to save money, time, space, peace of mind, the planet or your sanity (being creative helps you live longer and it's very healing).
Upcycling is Imagination. It's whatever is important to YOU. That's the idea behind upcycling in my view.
So you'd think I'd eschew places like Ikea…. ohh noooooo. I LOVE Ikea. Other than the ways they are working toward being way more Eco Conscious than most other huge retailers, in many ways, (which is a whole other blog and "Eco" is not what upcycling is only about, but throwing it in… good article HERE), the stuff they sell is affordable stuff with HUGE upcycling potential when you find you need to buy new. I'll be featuring some of our own Ikea hacks, ways to make it last (or repair things) and some Ikea upcycles in coming months.
BUT, some things just shouldn't be upcycled by us average junk lovers (a mattress comes to mind) and there is no denying when you fall in love with a piece of furniture you couldn't possibly make yourself or someone elses artistry. Get it if you love it. But support local upcyclers and artists whenever you can, rather than just the Chinese economy and do what you can to embrace that idea if it moves you.
Upcycling isn't just about recycling old stuff and it doesn't need to be "glam" or "shabby"

it can be sleek or perfectly restored rather than changed, whatever floats your boat, but it's nice if it works out the way you want it to.
So, bottom line, upcycling is many things and I haven't even come close to all the ways it can be done, not to mention how fun it is and generally good for the planet, local economy and your own creative satisfaction.
Cheers !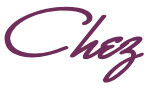 Enjoy UpCycling ! Feel free to ask any questions you like in the contact form below.
---