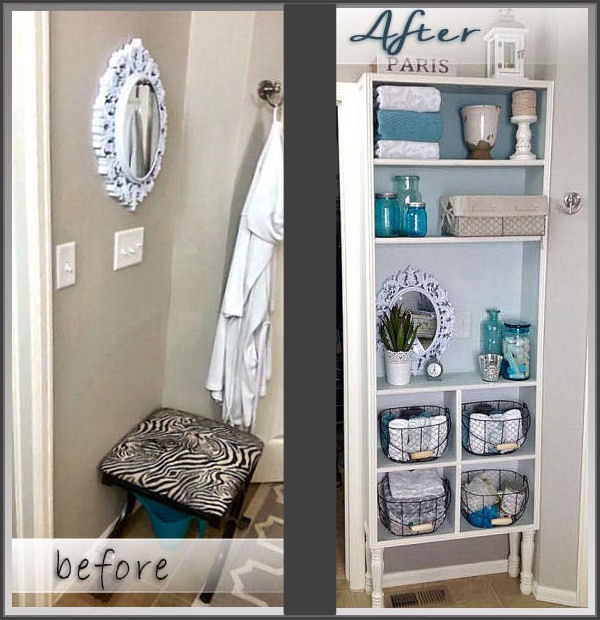 I've always had this annoying "nook" in the master bath that I've been vacillating about since we moved into this current home we bought in May 2013. Actually, for an expensive new build, there's a lot I love about this house, but a lot that is poor design, void of character or just needs "doin' " ya know ? So I had a bench with a mirror above it in this "nook" for a long time while I thought it through and got around to addressing the problem (oh and that bench/stool.. a soon to be upcycled project, pair of them).
Anyway, back to the built-in. To avoid shockingly long posts, I'll first show the before and after here, with the back story, then in the coming days, tell you what/how Mr Stud and I did and why.. (name changed to protect the not-so-innocent husband that is my partner in crime in all larger projects and generally awesome to be married to).
The photos above, was the "nook" before. Seated between the WC wall and the closet door (yes, closet is in the master bath… not a choice location, but it's where it is.. compromises, right?) It was only 28 inches wide, door trim to wall, about 8 inches deep and 7ft to the top of the door trim. Oh and did I mention the [small & only] vent/register for this large master bath/closet is right there in the floor ! So there was no modifying, in a simple way that made sense, something like a bookcase we already had or searching one out on craigslist or a thrift store. The dimensions, vent and OH YES, the LIGHT SWITCHES that are there, gave me a headache just thinking of all the hacking up, bodging back together and awkward mess it would turn out to be.
Soooo, the only choice that was going to look any good (resale always in mind, because ya never know), was a custom built-in. So for this one, I didn't even bother googling inspiration photo's or making an IdeaBook Folder on Houzz, because I knew what I'd like for extra storage and what would look good. I just scribbled up a basic design based on what would work for me regarding storage options (you will come to learn I am obsessed with boxes, baskets & containers).This was the drawing (totally out of scale and not even resembling proportion) of my design. Me doing this, helps Mr Stud and I not behave like 5 years olds when he makes no effort to read my mind and discern what I want to build and how it should turn out when he helps me with a project.
After working out what I'd need, doing yet another drawing for the peeps at Home Depot laying out measurements & how I wanted a sheet of 4ft x 8ft piece of sanded 3/4 inch plywood ripped to fit in my Jeep (barely), we went and got the wood, I picked and grabbed the various moulding and trim I wanted, poked around for "oops" paint (that's a thing with me every time I go to home depot) and the below was the result. MUCH more to tell of course, but I'll go into details in coming posts, with hints and tips etc, plus basics on how to do this yourself.
Before anyone asks, I'm originally from Australia, so my choice of words like "moulding" or "colour" are just habit and I'll likely use both USA or Queens English spelling as it suits me on a given day *wink*. Other stuff, my bad grammar or typo

.. just let me know and I'll fix it.
Just to finish up, we've done a few things inside and out in the almost 2 years we've been here, but last year was consumed by 6 and 11 month warranty work by the builder and mostly outdoor stuff we did (you'll see that in other posts) and I'll write more in the About area regarding our journey from landing in the USA, renting, buying a Townhouse and now a big sprawling ranch and why, if you're interested

Thanks for stopping by !